B
rand new as of summer 2020, the barn has modern features while having a northern rustic feel. Features include:
• Euro Front for maximized open air and a beautiful exterior.
• Automatic water system in every stall providing human grade water
• Powerful corner fans in every stall
• Stalls matted with interlocking rubber mats
• The isle, grooming stalls, and wash racks are also fully matted
• Large seating area in back of barn
• Fly spray system
• Human grade water for bathing
• Four wash racks
• Three grooming stations
• Laundry room (laundry done for all boarders free of charge)
• Finished bathroom
• Finished tack room
• Finished office
• Automatic gate with enhanced security
• Grooms live on property
Take a virtual tour of the stable with the Google 360 tour feature below.
Please watch the drone tour of Treasure Coast Stables in the link below: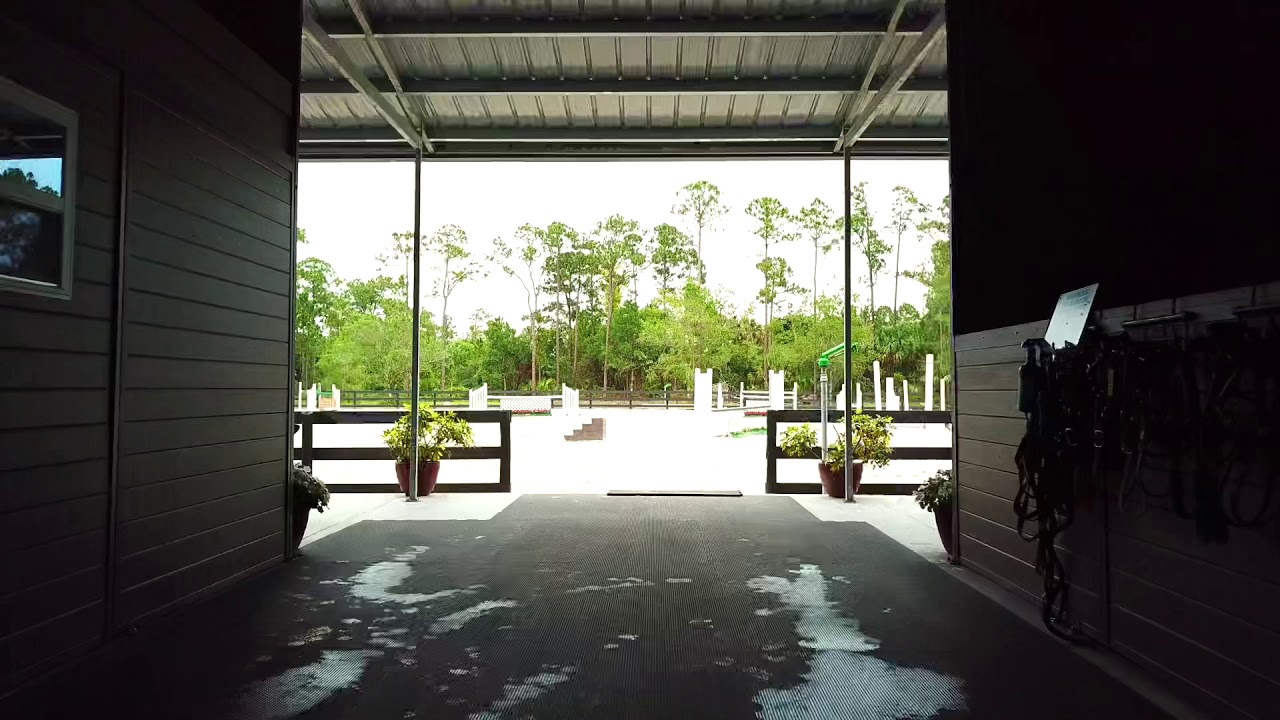 The front of the property features a 400' x 100' grass hunt field with natural jumps.
The main arena is 265 x 165 with all-weather footing, a 3 board fence, a 120' viewing area, and is meticulously groomed.
A number of grass turnout paddocks are available for all boarders.
An equine treadmill is available for TCS boarders.
Includes feeding, stall cleaning, blanketing, and turnout. $1200/month
Includes all services of Basic Board plus daily grooming and tack-up. Horses are thoroughly groomed daily and kept to the highest standards. Horses are ready for their riders upon arrival and taken for you when you dismount. Ideal for the busy student or busy adult. $1500/month
Full Training/Sales Board
Includes all of the services of Full Care Board, plus lessons and daily riding by a professional at TCS. Ideal for the client seeking a simple all inclusive monthly package. Marketing and trials for a sales horse also included. $2200/month
"I have been riding with JP Roukis and Treasure Coast Stables for over 8 years. I am very happy with the training, care and facilities. I really like JP's teaching style, he is very knowledgeable, positive and provides the constructive instruction needed to help me achieve my riding objectives. JP worked closely with me to find my next show horse and I am thrilled with my partner. I am an adult that started riding later than most and really enjoy the atmosphere and doing more than I ever thought I could."
"Having been around the horse show business for many years, I have never come across a more exceptional training team than Treasure Coast Stables! My daughter's dream was to successfully compete in the "Big Eq" ring. Coming from budget conscious parents, JP was able to fulfill her dreams and ours! Kaylee's success was so great that she got an NCAA Division 1 scholarship to the university of her dreams! This achievement would not have happened without JP. I've seen him successful with young horses and riders to adults; both in and out of the show ring. I would recommend JP to anyone wanting to accomplish their dreams!"